Error code 0x80D02002 is typically associated with Windows Update failures. It indicates that the update process failed to install or download one or more updates, and the system is unable to complete the update process.
Update error Code  0x80D02002 may occurs due to various reasons, such as network connectivity issues, corrupted system files, or software conflicts.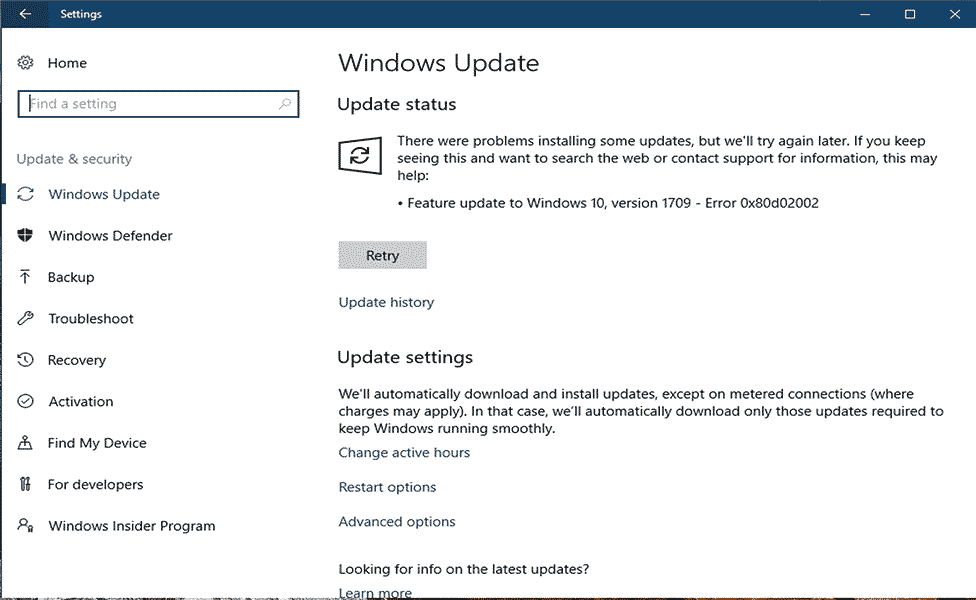 If you are encountering this Windows 10 Update Error Code 0x80D02002 , there are several troubleshooting steps you can take to resolve the issue. Here are some potential solutions to try:
Check your internet connection:
The first step is to ensure that your internet connection is stable and strong enough to download updates.
If you are using a wireless connection, try switching to a wired connection or restarting your router.
Run the Windows Update Trouble-shooter to fix Error Code 0x80D02002 :
Windows includes a built-in trouble-shooter that can help diagnose and fix common update issues.
To run the trouble-shooter, Go to Settings > And Update & Security > Troubleshoot > Windows Update. Follow the prompts to complete the trouble-shooter.
SFC SCAN to fix Error code 0x80D02002:
The System File Checker (SFC) is a built-in utility in Windows that can be used to scan for and repair corrupted system files. Here are the steps to run an SFC scan:
Open Command Prompt as an administrator. To do this, right-click on the Start menu and select "Command Prompt (Admin)".
Type the command "sfc /scannow" and press Enter. This will start the scan.
The scan may take some time to complete, depending on the size of your system files and the speed of your computer. You can monitor the progress of the scan in the Command Prompt window.
If the scan is complete, the Command Prompt will display a message that indicating any corrupted files were founded and repaired.
If corrupted files were found and repaired, restart your computer to apply the changes.
Note: In some cases, SFC may not be able to repair all corrupted files. If this happens, you can try running the scan again or use the Deployment Image Servicing and Management (DISM) tool to repair system files.
DISM Servicing Tool
DISM (Deployment Image Servicing and Management) is a command-line tool used to service and prepare Windows images. Here are the general steps for using DISM:
Open Command Prompt as an administrator.
Determine the edition and architecture of the Windows image you want to service.  Use the given commands to listDISM /Get-WIMInfo /WimFile: C:\path\to\image\install.wim
Mount the Windows image to a local directory. Example:DISM /Mount-Image /ImageFile: C:\path\to\image\install.wim /Index:1 /MountDir: C:\mount\point
Make changes to the mounted image. Example, add or remove drivers, packages, or features.
Unmount the image and commit changes. Example:DISM /Unmount-Image /MountDir: C:\mount\point /Commit
DISM /CheckHealth /Image: C:\path\to\image\install.wim
This command will scan the image for any corruption or other issues.
Follow the given commands to clean up temporary filesDISM /Cleanup-Image /Image:C:\path
Reset the Windows Update components:
If the trouble-shooter does not resolve the issue Windows 10/11 Update Error Code 0x80D02002, you can try resetting the Windows Update components.
Open an elevated command prompt and run the given commands in sequence of order :
net stop wuauserv
net stop cryptSvc
net stop bits
net stop msiserver
Ren C:\Windows\SoftwareDistribution SoftwareDistribution.old
Ren C:\Windows\System32\catroot2 catroot2.old
net start wuauserv
net start cryptSvc
net start bits
net start msiserver
Disable third-party antivirus software to fix Error Code 0x80D02002:
Antivirus software can sometimes interfere with the update process. Try disabling any third-party antivirus software temporarily and check if it resolves the issue.
Perform a system restore:
If none of the above solutions work, you can try performing a system restore to revert your system to a previous working state.
Go to Start menu.
Choose Settings
Next Update & Security > Recovery
Select "Reset this PC."
Choose "Keep my files" or "Remove everything," depending on your preference.
 Start by checking your internet connection and running the Windows Update trouble-shooter.
In Conclusion:
I hope this information helps you resolve the windows 10/11 error code 0x80D02002. If you have problem in doing this method, we recommend you to chat with our experts. I am sure they will guide you and help resolve this issue. You can also visit website for more details and information.